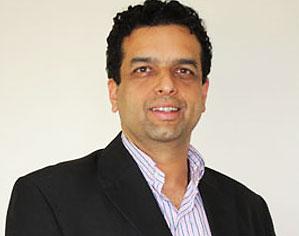 Mr Rajiv Limaye
MS, MCh(Orth), FRCS, FRCS(Orth)
Consultant Trauma & Orthopaedic Surgeon
Arthroscopic & Minimal Access Surgery Specialist
Fellow, AO International (trauma)
Mr Rajiv Limaye has undergone extensive medical training in India and UK. He undergoes regular appraisals of his practice every year to keep his practice standards up to date and to high standards. He is currently revalidated though the GMC. His experience in short is as follows -
5 years undergraduate training and 3 years of post- graduate training in India to qualify as a medical doctor and specialist orthopaedic surgeon in 1993, before arriving into UK.
Further 10 years of junior and senior registrar level Orthopaedic and Trauma training in the UK across Liverpool, London and Oxford regions.
Fellowship level training in Foot/Ankle surgery in the UK, leading to entry onto specialist register in the UK in 2005. Further on-going worldwide top up training in foot and ankle surgery, every year for updating his current practice.
Appointment as a Consultant in Orthopaedics and Trauma surgery in the NHS since 2005.
Faculty position in local and international level courses and conferences in foot/ankle surgery, trauma and basic sciences, to keep up with his research activities.
Widely involved in publications for Orthopaedic journals, presentations of his experience in national/international meetings and contribution to book chapters for the Textbook of Orthopaedics and Trauma. Currently serving as an Editor for an Orthopaedic journal.
MBBS- 1990 - B J Medical School, Pune, India
MS (Orth) - 1993- B J Medical school and Sassoon Hospitals, Pune, India
MSc (Trauma surgery) - 1999 -University of Birmingham, UK
MCh (Orth) - 2000- University of Dundee, Scotland, UK
FRCS (General) - 2005- The Royal College of Surgeons of England, London, UK
FRCS (Orth) - 2005- The Royal College of Surgeons, Dublin, Ireland and England, UK
Trauma Fellowship - 2005 (AO International- Switzerland)
Primary Foot/Ankle surgery- Mr's Sarkar and Belham- Luton Hospital and Watford Hospital, UK
Hindfoot surgery and Total Ankle replacements- Prof Hintermann, Liestal, Switzerland
Minimal access Forefoot Surgery- Prof Coillard, Lyon, France
Arthroscopic sports injury surgery- Prof Nick van Dijk, Amsterdam, Holland
Minimally invasive foot/ankle surgery- Prof De Prada, Murcia, Spain
Additional top up training- Various centres in the USA- Washington DC, New Jersey, Dallas and Chicago
Consultant (NHS)- Lead Consultant, Division of Foot and Ankle surgery- University Hospital of North Tees and Hartlepool, UK
Consultant (Private and NHS) - Foot/Ankle/Knee surgery- BMI Woodlands Hospital Darlington and Nuffield Health Tees Hospital, Stockton on Tees
Examiner MRCS, The Royal College of Surgeons of England- Since January 2012
Examiner - FRCS (Tr & Orth), Intercollegiate Boards in Trauma and Orthopaedics, The Royal College of Surgeons of Edinburgh, UK- Since March 2013
Honorary Clinical Lecturer- University of Teesside, UK, Since March 2011
Examiner- MBBS, final year, University of Newcastle, UK- Since 2010
Past Registrar Trainer- Northern Deanery school of Orthopaedics and Trauma
Faculty- Basic science courses, Foot and Ankle surgery courses (National and International courses)
General Medical Council - Full Membership (GMC)
The Royal College of Surgeons of England: Fellowship
Specialist Register in Trauma and Orthopaedic Surgery in the UK
British Orthopaedic Foot and Ankle Society (BOFAS)
British Orthopaedic Association (Fellow)
British Medical Association
Rajiv's interests include nature walking, travelling and learning various cultures.
His passion however is water colour paintings and has received many national prizes in this specialty. Rajiv has completed elementary and intermediate drawing exams in India leading to a diploma in painting. His other interest lies in still photography and has received prizes in that.
Mr Rajiv Limaye's accolades - 2013
January 2013- Mr R Limaye was invited as a moderator at Indo-USA Foot and ankle meet, Kolkata, India
February 2013- Visitation to St Carlos Hospital, Murcia to share experience with Dr M De Prada in minimally invasive forefoot surgery
March 2013- Attended the American academy of Orthopaedic surgeons annual meeting in Chicago, USA
April 2013- Mr R Limaye was invited at basic sciences and mock FRCS Orth Examination at Wrightington Hospital, Wigan
May 2013- Mr R Limaye attended the MRCS examinations at Royal College of Surgeons of England, London
June 2013- Mr R Limaye visited 2 centres of excellence for foot/ankle surgery in Washington DC and New Jersey, USA
June 2013- Attended the hindfoot surgery course in Liestal, Switzerland
September and early October 2013- Mr R Limaye visited Baylor Medical institute, Dallas to share his experience with Dr J Brodsky.
December 2013- Mr R Limaye attended MRCS clinical exam at Nairobi, Kenya
Invitations for 2014
January 2014- Mr R Limaye was invited as a faculty in the Indo- USA foot and ankle meeting in Jaipur, India
March 2014- MRCS examinations, Sharjah, UAE and Cairo, Egypt
May 2014- MRCS examinations, Sheffield, England
August 2014- Faculty position at the Trauma Con conference in Mumbai- unable to attend
August 2014- Faculty position at IFAScon (Indian foot and ankle society) meeting at Pune, India- unable to attend
October 2014- MRCS exams, Royal College of surgeons, London
November 2014- Total ankle replacement, New York
November 2014- Visited Pittsburgh to share results of first MTP replacement with Dr Carl Hassleman
December 2014- Visit to France on a forefoot course
Invitations for 2015
March 2015- Foot and ankle course for residents- India
May 2015- MRCS examinations, London, UK
July 2015- First MTP joint replacement course, Faculty- Liverpool, UK
October 2015- MRCS examination- Cyprus and Cairo, Egypt
25,26, 27 October 2015- Invited as a speaker in Orthopaedic conference in Baltimore
November 2015- British foot and ankle surgery meeting - London, UK
November 2015- MRCS examination Colombo, Sri Lanka
Invitations for 2016
Foot and Ankle symposium- Hartlepool
April- Combined orthopaedic association meeting in Cape Town (Papers)
May- World podiatry association meeting in Montreal, Canada (Paper)
June- MIS foot/ Ankle surgery- Barcelona, Spain
September- MRCS exam in Hyderabad and KL, Malaysia
November- MRCS exam in Cyprus and Egypt
December- Visitation planned in USA
Browse Rajiv's publications in national and International journals by visiting - Researchgate/ rajiv limaye
Mr Rajiv Limaye
BMI Woodlands Hospital
Morton Park, Darlington, County Durham
DL1 4PL, United Kingdom
North Tees and Hartlepool Hospital
Hardwick Rd, Hardwick, Stockton-on-Tees
TS19 8PE, UK
Cleveland Nuffield Hospital
Junction Rd, Stockton-on-Tees TS20
1PX, UK